Celebrity Cooking Stage
Check back regularly for updates.
Saturday, February 2, 2019 | 10:00 am to 7 pm
Sunday, February 3, 2019 | 10:00 am to 6 pm
11:00 AM
Pasta E Fagioli
with Jeremy Inglett and Adrian Harris, Chef/Author
Italian-style pasta and beans
Sponsored by: The Food Gays
About the Presenter:
Jeremy and Adrian are two Vancouver-based guys who are totally obsessed with food, photography and social media. Their blog was launched back in the summer of 2012, and since then it has become a growing collection of healthy and indulgent recipes, lifestyle finds, travel and restaurant experiences around our city. They are freelance writers for online publications like Martha Stewart, Food & Wine, Gusto TV, Vancouver Courier, VITA, The Province, and are contributing editors for The Feed Feed.

12:00 PM
Jamaican Beef Patties & Vegetarian Patties
with Maureen Simon, Chef/CEO Maureen's Natural Foods
recipe description coming soon
Sponsored by: Nesters Market, Chef/CEO Maureen's Natural Foods
About the Presenter:
Chef Maureen, CEO of Maureen's Natural Foods, has been in the food manufacturing business for over 30 years. She has used her culinary creativity to recreate popular traditional Caribbean dishes, designed for the Western pallet. Her company, Maureen's Natural Foods, features a line of local ethnic products. She specializes in West Coast Flavors served in a natural, healthy way.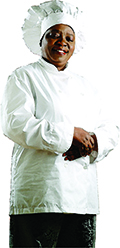 1:00 PM
recipe coming soon
with Chef Hidekazu Tojo, Executive Chef/Owner, Tojo's Restaurant
recipe description coming soon
Sponsored by: Tojo's Restaurant
About the Presenter:
Executive Chef Hidekazu Tojo is the Executive Chef and Owner of Tojo's Restaurant in Vancouver. During years at the Famed Ohnoya restaurant, Tojo mastered an encyclopaedic repertoire of some 2000 traditional Japanese recipes that he can draw on from memory even today. Chef Tojo moved to Vancouver in 1971 where he invented the much-loved California Roll! Today, Tojo continues to experiment and push the boundaries of Japanese cuisine!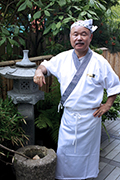 2:30 PM
recipe coming soon
with David Wood, Author of Cooking for Friends
recipe description coming soon
Sponsored by: Salt Spring Island Cheese
About the Presenter:
Former owner of the prestigious David Wood Food Shop in Toronto, David has spent over two decades on the West Coast cultivating acclaim for his cheese-making (as owner of the Salt Spring Island Cheese Company), as well as for his unique understanding of the elemental role food plays in daily life. A traditionalist at heart, David grew up in postwar Scotland respecting food as basic sustenance and not much else. Now a cook of wide-ranging skill with a familiarity of many complex cooking methods and tastes, David continues to be influenced by the pragmatism of his early years, but with greater ambition and a refined palette.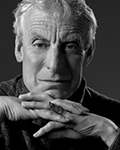 3:30 PM
Lucky Dumplings
with Clement Chan, Executive Chef
Lucky Dumplings – pork, scallion and cabbage dumpling with garlic chips and pickled cilantro
Sponsored by: Torafuku
About the Presenter:
The Torafuku kitchen is led by Executive Chef Clement Chan. Clement attended culinary school at Vancouver Community College and was recognized early on as a rising star, winning provincial awards, representing Canada in the World Culinary Olympics, named National Chef of the Year and appeared on Food Network shows; Top Chef Canada and Eat St. He has worked at a number of notable restaurants in the city, including local favourites such as Hapa Izakaya, Chambar and Blue Water Café. These days you can find him on his award winning Le Tigre food truck or busy working at his new restaurant Torafuku.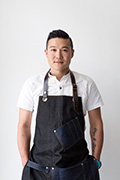 4:30 PM
recipe coming soon
with Rotem Tal and Itamar Shani, Chefs and Owners of Chickpea Restaurant
recipe description coming soon
Sponsored by: Chickpea Restaurant
About the Presenter:
Food has always played a major role in Rotem Tal & Itamar Shani's lives. Originally from Israel, both of them experienced the fresh, spicy, homemade flavours of the Mediterranean first hand. Both Rotem and Itamar believe in connecting with the world through people's stomachs. Using wholesome ingredients, prepared with love, Chickpea Restaurant is quickly changing up the plant-based scene in Vancouver.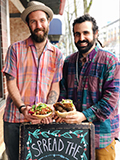 5:30 PM
recipe coming soon
with Naz Deravian, Author of Bottom of the Pot
recipe description coming soon
Sponsored by: coming soon
About the Presenter:
Naz Deravian is a writer and actor born in Iran, who grew up in Italy and Canada and now lives in Los Angeles. She is the award-winning voice behind the food blog Bottom of the Pot, which won the 2015IACP Award for best culinary blog. She has also been twice nominated in several categories for the Saveur Food Blog Awards. Naz has been profiled in Bon Appetit magazine, The New York Times, Sunset magazine among others. Her work has also been published in The Atlantic, and O Magazine.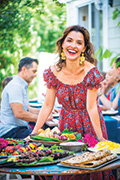 11:00 AM
Vegan Thai Curry
with Zuzana and Nikki, Personal Trainer and Health Coach
An awesome homemade Thai curry, made entirely from scratch – no package curry pastes required! This yellow curry is rich and very flavourful and makes a nutritious dish to serve on a chilly fall or winter night. Leftovers make perfect weekday lunches!
Sponsored by: Active Vegetarian
About the Presenter:
Zuzana Fajkusova & Nikki Lefler are personal trainers and health coaches from Vancouver. Both have been following a plant-based lifestyle for over two decades, and during this time they have encountered many amazing benefits of living this way. Their mission is to share their experiences, inspire others, and guide them towards achieving and maintaining a wholesome, active and plantbased lifestyle. They are the authors of The Vegan Weight Loss Manifesto and The Active Vegetarian.

12:00 PM
recipe coming soon
with Chef David Mueller, Executive Chef
recipe description coming soon
Sponsored by: Bauhaus
About the Presenter:
Before joining Bauhaus, David worked with some culinary legends: at the Eldorado Hotel alongside Food Network Chef Michael Lyons and former Five Diamond Eden Chef Justin Best, Chef Marc Lepine of Atelier, and with Chef Lee Parsons of the Diamond Award-winning Wedgewood Hotel. For David,
cooking is an art form that is best appreciated when all five senses are balanced. He combines local, high-quality ingredients and masterful technique to achieve sublime flavours, aromas, and a visual appeal that will leave you wanting more!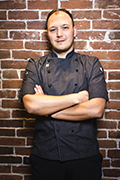 1:00 PM
Goat Cheese Truffles; and Roasted Carrots & Parsnips with Chickpeas
with Angie Quaale, Food Specialist
Recipes from Eating Local in the Fraser Valley: Goat Cheese Truffles; and Roasted Carrots & Parsnips with Chickpeas
Sponsored by: Well Seasoned Gourmet Food Store
About the Presenter:
Angie Quaale is an award-winning entrepreneur and owner of Well Seasoned, a gourmet food store in Langley, BC. Since 2004, Quaale has combined her expertise in menu development and retail food distribution to educate food lovers on the latest developments in food products and cookware from across the globe. Outside of Well Seasoned, Quaale enjoys sharing her insights on the latest food trends with food lovers and demonstrates strong industry leadership as Langley Township Councillor.

2:00 PM
recipe coming soon
with Chef Cullin David, Executive Chef/Co-Owner, Calabash Bistro
recipe description coming soon
Sponsored by: Calabash Bistro
About the Presenter:
Chef Cullin David may have grown up in Vancouver, but his diverse palate and knack for handcrafting authentic island-inspired cuisine speak directly to his Caribbean background. Raised in a family of many great cooks, Cullin realized early on that he had an appetite for gastronomy and a craving to open a restaurant influenced by his grandmother's signature West Indian cooking. His dream became reality with the opening of Calabash Bistro, which Cullin launched with partners Sam Willcocks and Roger Collins in 2010.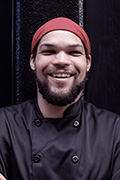 3:00 PM
Pad Peaw Wan Gai and Simply Thai Spring Roll
with Chef Grace-Siriwan Rerksuttisiridach, Executive Chef/Owner, Simply Thai
Pad Peaw Wan Gai and Simply Thai Spring Roll
Sponsored by: Simply Thai Restaurant
About the Presenter:
Born and raised in Bankok, Thailand, Chef Grace studied the art of Thai cooking under PenPen Sittitrai, teacher and trainer of chefs for the Royal Thai family. Grace had a creative talent for blending Thai cuisine and wanted to showcase this unique fusion in Canada. Emigrating to Canada in 1992, she was
finally ready to open Simply Thai Restaurant in 2000 and put her recipes to the test.

4:00 PM
Recipe Coming Soon
with Warren Chow, Executive Chef
Description Coming Soon
Sponsored by: Juniper Restaurant
About the Presenter:
Chef Warren Chow has been cooking for over 10 years, apprenticing under one of Canada's most respected chefs, Scott Jaeger at The Pear Tree Restaurant in Burnaby. He has competed in various cooking competitions taking gold at the BC Food Expo in the Apprentice Category, Team Category and also The Healthy Chef's Competition. Warren also competed at the Chaine de Rotisseur competition placing a respectable 2nd. In 2017, Warren landed the Sous Chef position at Juniper Kitchen and Bar where his hard work and passion for the restaurant industry was quickly recognized and was promoted to Executive Chef.